Taking Buffets Beyond Boring
Rows of chafers don't cut it anymore—not with members, and certainly not with chefs—when it comes to buffet service. Even a weekly buffet can become an anticipated event when fresh ideas are brought to the table.
Club & Resort Business
Marilyn Odesser-Torpey |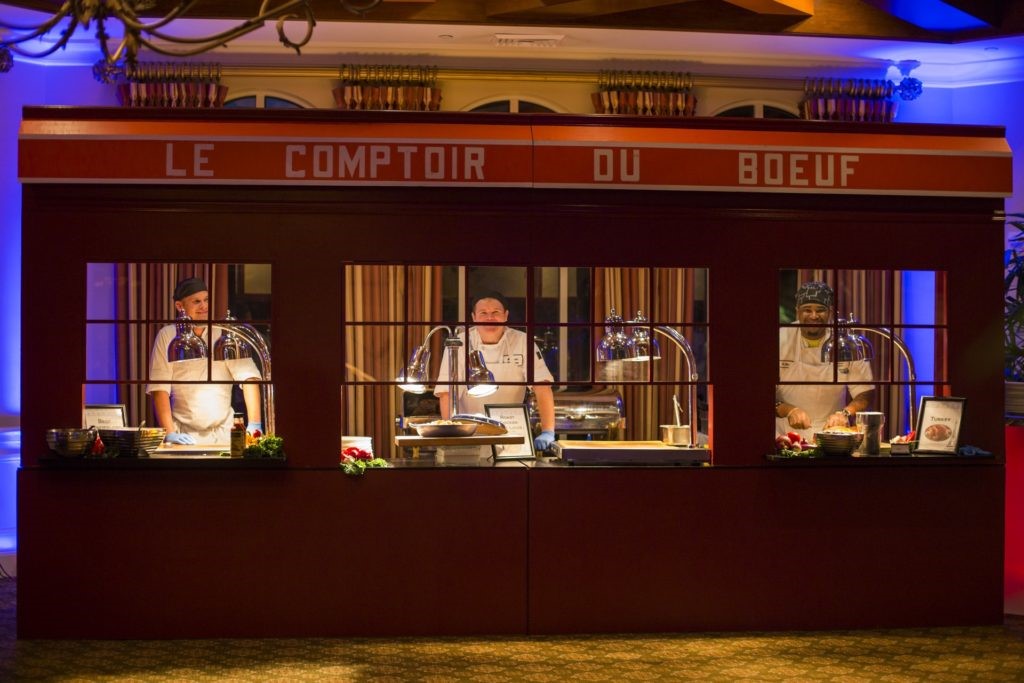 Buffets don't have to be ho-hum to feed a crowd. With some creativity in food and décor, they can be a showcase for the best a club has to offer.
Thursday is Pasta Bar night at St, Clair Country Club in Upper St. Clair, Pa.—an event, according to Shawn Culp, the club's Executive Chef, that attracts a lot of families who return week after week to feast on different rotating varieties of pastas, some filled; plus three or four kinds of sauces and other Italian specialties such as flatbread pizzas, Italian wedding soup, beef braciole, meatballs, hot sausage links, garlic bread and focaccia sticks. A variety of green salads, "always including Caesar," is also available, Culp adds.
"This year, I'm hoping to get a fresh pasta maker to use on our buffets, to create another element of experience for our members," he says.
St. Clair's members never get tired of the buffet because there's always something new to try along with their traditional favorites, Culp notes. The club also offers a weekly Sunday brunch, and Culp is planning to turn prime rib, a popular a la carte item in the clubhouse restaurant, into the star of a chef-carved Saturday night buffet.
Last year, the club held a cook-out buffet and sleepover for members. "We expected 10 people, and ended up with 100," Culp reports. "This year, we're upgrading the hot dog and hamburger buffet selections, to include roast pig and beer-can chicken."
Warming Up to the World
Because winter holiday time sees an influx of families from colder climates coming into town and to the club, that's when Executive Chef Zach Bell puts out lavish buffets at Addison Reserve Country Club in Delray Beach, Fla. His inspiration for the food and décor is cities throughout the country and around the world.
For a Mexican-themed buffet, Bell combines traditional dishes such as posole (a soup made with hominy) and a contemporary guacamole bar, where diners can load their guac with extra chilies, roasted poblano peppers, toasted pumpkin seeds, diced tomatoes, onions, chicharron (fried pork skin), queso fresco, bacon and hot sauces, with homemade tortilla chips for dipping. A Paris-themed buffet featured a charcuterie-and-cheese station, roasted tenderloin with Bearnaise sauce, beef bourguignon, moules et frites (mussels and French fries), bouillabaisse and a Crepes Suzette action station.
In addition to traditional regional specialties, Bell's inspiration comes from dishes from famous restaurants in the featured cities. To provide visual "transportation" to the locale, he calls on Rick Courier, the club's Director of Facilities Maintenance and a master carpenter, who has created scenery for many special events and even James Bond films.
"If we can dream it, he can build it," Bell notes. "Local event companies even come to us to borrow our props."
A 16-foot Chinatown Arch was the setting for a Pan Asian buffet at Addison Reserve. Along with Chinese-restaurant classics such as beef and broccoli and General Tso's chicken, the buffet included a 24-foot bar with three master chefs and apprentices rolling sushi (see photos, pg. 40). They prepared upwards of 400 rolls that day, some of which were custom creations, Bell says.
Bell and Courier haunt stores such as Home Goods, Michaels and thrift shops to add to their prop collection. The club also has a photo-quality plotter printer, for producing colorful backdrops.
On New Year's Eve, Addison Reserve hosted a thousand people for a street fair-like celebration showcasing world cities such as Istanbul, Vienna and Capetown. ("We asked our sous chefs for ideas for this buffet, and they were stoked," Bell reports.) Upstairs, Bell and company set up an elegant, gala truffles-and-caviar buffet for 300.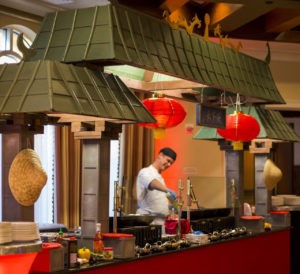 A 16-foot Chinatown Arch and a 24-foot bar with three master chefs and apprentices rolling sushi highlighted a Pan Asian buffet at Addison Reserve CC. Upwards of 400 sushi rolls were prepared at the event, many of which were custom-made.
For a New Orleans Mardi Gras-themed buffet during Passover/Easter Week, Courier built an authentic-looking Cajun shack for the shrimp boil station. In addition to the shrimp, diners could grab corn and potatoes at the shack. Other Big Easy specialties included jambalaya served in a paella pan, vegetarian and sausage/shrimp gumbos, crawfish and a la minute action stations for grillades (Creole cubes of beef in gravy) and strawberry shortcake.
"Diners like to see their food made to order, so we're using more action stations—at least three or four including carving stations–and fewer chafers," Bell notes.
Recently, he bought a rolling buffet table with a marble top and cabinet base, for use in the dining room and remote locations on the property. It can be used as a carving station with a small cooking unit, Bell notes, or to hold burners with sneeze guards, a tabletop mini-pizza oven, mini-flattop, grill and fryolator.
At St. Clair CC, Culp also likes to break up his buffets with action stations located around the venue, instead of serving from a straight line of chafers on a table. He uses induction burners, raviers, sauté pans and little pots to create more compelling visuals.
And he doesn't limit his food presentation area to tables. For a wine dinner, he hung clear-glass atriums with food inside them, and suspended skewered items at different levels.
A Year of Variations on the Theme
Historically at Hillcrest Golf and Country Club in Lubbock, Texas, Thursday evenings are the lightest of the week for dinner service, according to General Manager Tom McClure. For 2019, the club will make Thursdays theme-buffet nights, all with action stations, to spark member interest.
Suspended items, including special bacon preparations, add new levels of visual intrigue to buffet setups at St. Clair CC.
As examples, McClure mentions Green Chile Cheeseburger and Shake Night with made-to-order shakes; Street Taco Night with action stations for the tacos and margaritas; Mongolian Grill Night, and Cajun Night. He is confident that a well-done buffet will drive dining at the club, because the club's monthly Seafood Night has been so wildly popular among members.
For that buffet, he puts out king crab legs, smoked salmon, oysters on the half shell, peel-and-eat shrimp, fried coconut shrimp, fried oysters, a signature fresh fish dish such as pan-seared black grouper with Cajun crawfish sauce, a full salad bar, and clam chowder.
With driving mid-week dinner business a priority, Hillcrest CC has dubbed Wednesday Family Night, offering a value-priced buffet of homestyle items such as meatloaf, chicken-fried steak, fried chicken and hamburgers that appeal to all ages, according to McClure. Each week, the club holds a drawing for a $100 account credit during the evening dinner service; members must be present to win.
To provide a quick and convenient lunch for its business members, Hillcrest serves a soup-and-salad bar daily. Always on the buffet is the house-tossed salad and three other signature selections, as well as chili every day and a signature soup that changes every day.
Hillcrest members are also just as interested in where their food comes from as in how good it tastes. So both on the regular menu and on buffets, McClure promotes the fact that he uses Raider Meats, which supports scholarships and other good works at Texas Tech University in Lubbock.
"This appeals to our membership base, and Raider provides a superior quality product as well," he explains.
Small Plates, Big Rewards
For their private events, an increasing number of members at St Clair CC are asking for hors d'oeuvres buffets with stations and creative décor, Culp reports.
"We offer little interesting portions, small-plate style, at multiple stations," he says. "By the end of the event, guests have eaten the equivalent of a whole dinner."
A big hit is the bacon glazed with either rum pineapple or Tellicherry pepper, bourbon, mustard and maple, which Culp presents whimsically hung on clothespins from a clothesline (diners plucked off the strips) and identified with a chalkboard sign drawn by an art student on the staff. "Members had a lot of fun with the presentation," he reports.
The appetizer buffet also included tomato basil arancini, lobster satays, caramelized pear and gorgonzola crostini and chevre and fig tarts with walnut crust.
Going With What Works Best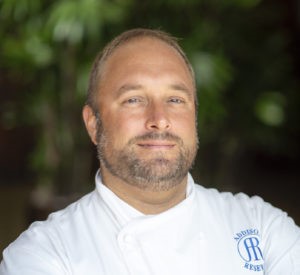 "Diners like to see their food made to order, so we're using more action stations—at least three or four, including carving stations—and fewer chafers." — Zach Bell, Executive Chef, Addison Reserve CC
Keeping the buffet full, fresh and appetizing is a big job, especially when there are multiple seatings. Among Bell's solutions is putting out smaller portions—about 12 portions at a time—of perishable foods. He also changes the food out when it is about 60% depleted.
"And we always have people wiping up drips and spills," Bell says. "That's the biggest challenge."
The chefs agree that some foods work better on buffets than others. Culp notes that green vegetables, unless they are in a casserole, quickly lose their appetizing color. Potato dishes, stuffed chicken and fish with aioli baked on top hold their heat and moisture well. Fried foods, he says, are difficult unless they are being fried to order.
Stews and braises such as short ribs and shanks have a larger window for not drying out than white-meat chicken, says Bell. Dishes with sauces, such as veal Marsala or Milanese, and roast turkey with gravy, also do well. He recommends do-it-yourself quinoa or kale bowls as a good alternative for large numbers of diners."We've done them for 400 people, and they've gone smoothly," he says.
Giving Buffets A Healthy Boost
An action station with a spiralizer helps St. Clair CC provide gluten-free pasta-bar options, reports Executive Chef Shawn Culp.
A buffet pasta bar isn't the first place anyone would think of for low-carb, gluten-free and Keto (very low-carb) diet-friendly fare. But some clubs are making their buffets destinations for members and guests with special dietary restrictions, or who just want to eat more healthfully.
At St. Clair Country Club in Upper St. Clair, Pa., the weekly pasta bar includes an action station where a chef uses a spiralizer to spin "noodles" from butternut squash in the fall or zucchini in the summer (often called "zoodles"), all made to order.
"This is the perfect way to provide gluten-free options to our members; that's a big restriction now," says Shawn Culp, St. Clair's Executive Chef.
Diners go through a salad bar-like display of proteins and vegetables such as chicken, shrimp, mushrooms, peppers and broccoli. They then take their selections to the sauté station, where the chef offers a choice of pastas and sauces. After the chef finishes the dish, the diners continue down the line to add accents such as crushed red pepper and Parmesan cheese.
Zach Bell, Executive Chef at Addison Reserve Country Club in Delray Beach, Fla., offers zoodles and meatballs made of white-meat chicken on his buffets. His grain and vegetable bowls are also very popular—some with a protein and some without. For example, Bell's hearty quinoa bowl, topped with teriyaki-glazed salmon, includes roasted sweet potato, shiitake mushrooms, sesame seeds, spinach, edamame, avocado, cucumber and ponzu dressing.
A Buddha Bowl, which Bell first had at a vegan restaurant in Vienna, combines beet hummus puree with grilled kale. For another healthful selection, he mixes cauliflower "rice" with avocado, cashews, tomato, pineapple and a lime-cilantro vinaigrette.
"Everybody's Keto now," he explains. "Healthy options are driving our operation; they're the up-and-coming thing, probably because of Instagram, where every other photo is some Keto dish."