TASTE OF THE NATION, 2019
Foodie Events: Jazz Brunch, Taste of the Nation, The Shake Up
By Lynn Kalber
February 19, 2019
Preparing Palm Beach Taste of the Nation, The Shake Up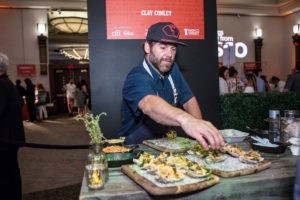 Taste of the Nation co-chair Chef Clay Conley (Photo courtesy LibbyVision, Inc.)
You might as well put it on your foodie calendar now: the 2019 Palm Beach Taste of the Nation is April 4 from 7 to 10 p.m. at the Kravis Center Cohen Pavilion. The Shake Up cocktail competition is going on now to start raising money, too.
Since 1988, this event that raises money to feed hungry children in the U.S.—as part of the No Kid Hungry charity—will highlight all the great restaurants and chefs in our area. Your ticket entitles you to too much food and the sipping of great drinks all night. It's produced by Share Our Strength, and 100 percent of the proceeds benefit's the charity's mission.
General admission tickets are $150 per person; VIP tickets (admission an hour earlier, at 6 p.m.) are $250 per person.
Restaurants/chefs participating are too many to name, but include: Buccan, Café Boulud, Grato, 1000 North, Brule Bistro, PB Catch, Trophy Room, The Regional, Avocado Grill, Café Sapori, Addison Reserve Country Club, Coolinary Café, Mazie's, Pistache, Cholo Soy Cocina, Dada, Meat Market, Kapow! and many more. The culinary co-chairs are chefs Lindsay Autry, Zach Bell, Clay Conley, Julien Gremaud, Tim Lipman and Virginia Philip. Buy tickets online.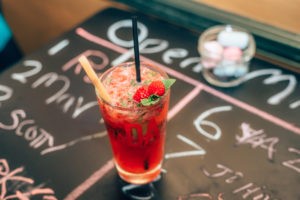 Dada's strawberry basil mojito
The Shake Up is a competition between restaurants that takes part of the cost of specific cocktails as donations to No Kid Hungry. The top two winning restaurant's bartenders who earn the most donations will serve their cocktails at the Taste of the Nation event. Shake Up venues include: Avocado Grill, Brick & Barrel, Dada (the strawberry basil mojito, pictured), Eau Palm Beach, Four Seasons Resort, Grandview Public Market, Grato, PB Catch, Pistache, Salute Market, The Cooper and The Regional.