Let the games begin
Our tennis complex features 12 Hydrocourts, 7 lighted for evening play. A favorite of all players, our court with an automatic ball return machine for honing one's skills, is always busy.
Tennis Center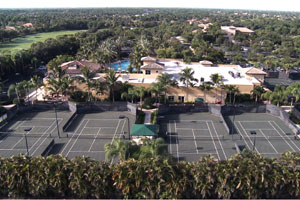 The Tennis Center at Addison Reserve® is home to 12 tennis courts and one state of the art tennis practice court with a built-in ball machine and retrieval system. 10 of our courts are lighted for evening play. The 12 courts are hydro courts that are always maintained in pristine condition. Watered and raked three times daily, the courts are meticulously maintained by our conscientious maintenance staff. The Grandstand court is adjacent to the Bistro Grill and is used for exhibitions as well as daily member play.
The Tennis Department is lead by a Head Tennis Professional who leads a dynamic team of assistant professionals and Tennis Shop staff who are ready to help members with all their tennis needs.